YOUR gift. YOUR legacy: Teresa Makuakāne-Drechsel KSK'71
Realizing the growing need to help even more Native Hawaiians, Teresa Makuakāne-Drechsel KSK'71 gives to the Pauahi Foundation through multiple streams to ensure future generations of haumāna are supported.
July 27, 2023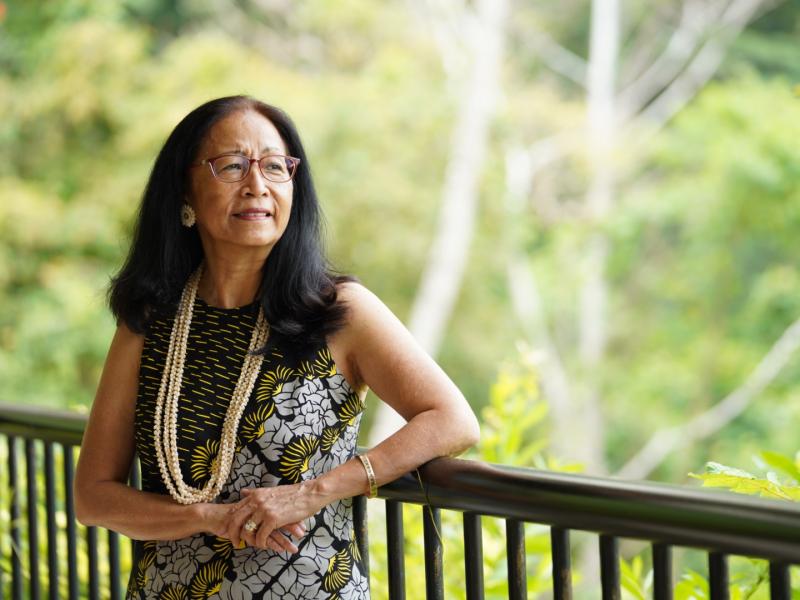 As the Pauahi Foundation evolves to meet the needs of Native Hawaiians by providing new and diverse opportunities for donors to contribute, Teresa Makuakāne-Drechsel KSK'71 remains committed to uplifting the lāhui through multiple giving pathways.
Makuakāne-Drechsel began what would become a 23-year career at Kamehameha Schools working in the extension/community education field. She then transitioned to work for the Pauahi Foundation when it first got off the ground at the turn of the century by overseeing financial aid and admissions.
Drawing inspiration through connections with donors in her work with the Pauahi Foundation, Makuakāne-Drechsel and her husband, Emanuel Drechsel, founded the Makuakāne Inspirational Educator Scholarship to honor the figures who had guided her to pursue a career in education, and inspire others to do the same. After planning and eventually starting the endowment in 2002 with an initial gift of $5,000, it has grown to almost $100,000 with four awards of $1,250 apiece given annually to scholarship recipients.
Realizing the growing need to help even more Native Hawaiians, Makuakāne-Drechsel worked with her financial advisor and decided to supplement her giving by making a legacy donation to the Pauahi Foundation. She and her husband designated the Pauahi Foundation as the beneficiary of her life insurance policy to ensure future generations of Native Hawaiians will be supported by the planned gift.
"My husband and I don't have children, and we both worked in education and are very aware of the need that exists with keiki in our communities today," Makuakāne-Drechsel says. "We were the recipients of scholarships and fellowships that helped us get to and through school. It's nice to have this second 'stream' of giving available as we remain committed to giving to the Pauahi Foundation; this is the big one!
"When we started the Makuakāne Inspirational Educator Scholarship, we didn't have much money and were working very, very hard. But I knew that it was possible to do something. My husband has been a tremendous supporter. He, too, benefited a lot from private donations so both of us knew that were it not for others giving generously, we could not have received the education we did. We always talked about when we were in the position to do this, that we would."
Makuakāne-Drechsel is the first of her family's six children to go to college after growing up in Puna on Hawai'i Island. She went on to earn a degree in linguistics and a doctorate in higher education.
"Neither of my parents had the opportunity to go to high school because it just wasn't available where they came from. They always said, 'It's not what you have, it's what you do with what you have,'" she says. "Three of us siblings went to Kamehameha as boarders, and it was such an inspirational experience. I was the first to finish a baccalaureate degree and that was made possible by my parents and older siblings working and providing for us, and helping send me to college. The notion of giving back really started at home and stays with me today."
Makuakāne-Drechsel also recalls working with classmates in 2016 to build up their class fund and scholarship five years before their 50th Reunion. She and her husband donated the initial funds to boost the endowment, then encouraged classmates to donate anywhere from $50 to $250 per year over the next five years. As members of the Class of 1971 bought in to the plan, the fund grew into a six-figure endowment and individual classmates were also inspired to make larger gifts of their own, and even endowed new scholarships to honor family members.
The Pauahi Foundation fosters and manages the scholarship award process, and donors can also give to multiple Kamehameha Schools program support options now available. Gifts can be applied to an array of crucial KS programs and collaborations in multiple areas including Excellence in Education (Pre-K-through-12), 'Āina Pauahi, College and Career, and Kamehameha Schools Campus Programs and Initiatives.
"It's really great to see the Pauahi Foundation offering a range of programs to donate to because some people are not ready to start up an endowment but are looking for ways to give," Makuakāne-Drechsel says.
By including the Pauahi Foundation in your will or trust and making a planned gift, you establish a legacy that benefits generations to come. Contact Jeannin Jeremiah at jejeremi@ksbe.edu or (808) 534-8540 for information about collaborating with the Pauahi Foundation.